Online Cartoon Course: learning to cartoon the foolproof way
Would you like to be able to draw cartoons to liven up your own work? Can you really learn effectively via an online cartoon course?
And is this even possible if you haven't picked up a pencil since pre-school?
Ask a random adult the question "Can you draw?" and they'll probably look at you like a deer caught in the headlights. "I can't draw to save my life" is a common response. Is that true for you?
Find out how you can break the "I can't draw" curse for good…
And have a lot of fun doing it – all before anyone puts a gun to your head 😀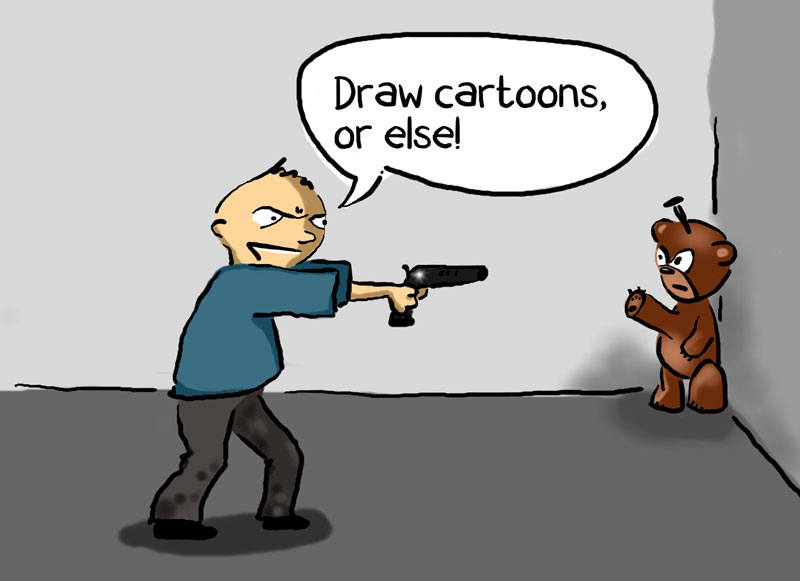 Wouldn't you like to draw cartoons to liven up your website, blog or presentations?
Wouldn't it be great if you could draw your own cartoons instead of having to depend on someone else—or worse, buy some ill-fitting clip art?
And what if you can't draw a straight line?
This is the course that started me on my cartooning journey. I am now privileged to teach it, using the same materials developed by Sean D'Souza of Psychotactics, and honed by the suggestions of hundreds of Da Vinci Alumni.
Da Vinci Cartooning Course
Amazing observation skills and laser-like focus with your comments

You have amazing observation skills and laser-like focus with your comments. I so appreciated your perspective and ability to offer that specific "tweak" to make something better. Your support and humor are invaluable. Thank you for sharing yourself. It was a gift.

Alison comes in with very pertinent feedback and learning points

Alison has been through the whole Da Vinci course as a student (including the advanced levels), so she understands how it is to go through this process of learning cartooning. And she's absorbed Sean's philosophy of teaching & learning, & understands the key elements, both of the actual drawing and also the learning process.

I have found Alison an excellent teacher & coach for this course. She came in with a high level of sensitivity to where we were at, and like Sean, started off with general encouragement - but quickly, as she got to know us & we all got to know each other better, Alison was able to come in with very pertinent feedback and learning points for everyone. Like Sean, her feedback is always gentle and easy to take - but is useful too.

It's clear she has an excellent artist's eye, and her feedback has been very valuable all round.
Spit'n'Polish Series
Do you feel like certain key elements in your cartooning arsenal could use some polishing? (How do you find time to improve your cartooning skills without everything else coming to a screaming halt)? Wouldn't it be wonderful to just focus on one key area at a time and see measurable improvements?
The Spit'n'Polish Series:
Wobble-free Speed (how to draw faster AND improve the quality of your output)
Ambitious Characters (how to enhance a character that's committed to getting to their next level)
Colour You (Un)Crazy (how to use laser-focused colour to enhance, not distract)
Cartooning with Kids: no drawing skills required!
Wouldn't you just love some creative downtime with your child, without needing to arrange supplies or get too messy?
Do you ever watching your kids draw and see their frustrations when things are not "perfect"? Do you relate to that feeling?
Wouldn't it be cool to draw together in a non-competitive way?
Courses Timetable
Spit'n'Polish 1 – Ambitious Character